ISOLA DI MALTA
Popolazione : 385.000
Capitale : Valletta
Punto più alto : Dingli Cliffs, 258 metri.
Guida : alla sinistra della strada. Età minima per guidare : 18 anni.
Il clima a Malta : mite. Non esiste la nebbia, il gelo, la neve e forti venti. Piove solamente per un breve periodo, il livello è approsimativamente di 578 mm durante tutto l'anno. La temperatura media è di 14 °C in inverno ed di 32 °C durante l'estate con il sole per una media 6,46 ore ed 10,11 ore respettivamente.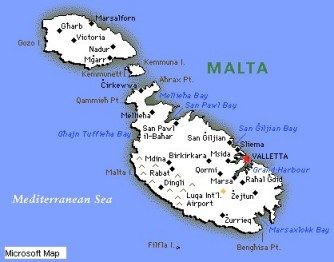 Malta, independent republic in the Commonwealth of Nations, consisting of a small group of 5 islands - Malta, Gozo, Comino (Kemmuna), Cominetto (Kemmunett) and Filfla - located in the Mediterranean Sea south of Sicily. The area of the largest island, Malta, is 246 sq km, of Gozo 67 sq km and of Comino (Kemmuna) 3 sq km.
Area : the total area of the 5 islands is 316 sq km (km²)
Population : 385.000
Capital City and leading port of the country : Valletta
Highest Point : Dingli Cliffs, 258 meters
Driving : on the left of the road. Minimum age for drivers : 18 years.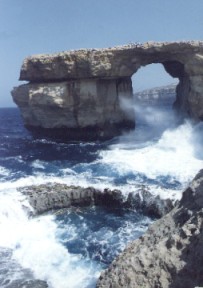 The climate in Malta is warm and healthy. There are no biting winds, fog, snow and frost. Rain falls for only short periods, averaging about 578 mm in a whole year. The temperature averages 14 °C in winter and 32 °C in summer with the sun shining for an average of 6,46 hrs and 10,11 hrs. respectively. Because Malta has no permanent rivers or lakes and precipitation is limited, the natural water supply has become a problem. The country has implemented a program to desalinate sea water; up to 70 percent of Malta's water comes from desalination plants.
The Maltese are predominantly Roman Catholic and speak a language similar in vocabulary to Arabic, although its alphabet and grammatical structure are derived from Latin.
Languages : the local language is Maltese (Semitic base) and English are official languages. Italian is widely spoken. Education is free and compulsory for children between the ages of 5 and 16.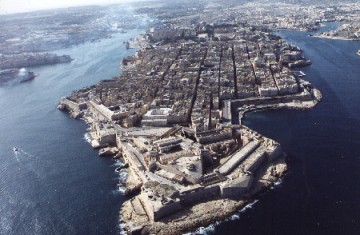 Named after the knight who masterminded Malta's successful stand against the Turkish siege of 1566, Valletta became the city of the Knights of the Order of St. John and the seat of Malta's government. Today it's a beautifully preserved 16th-century walled city, small enough to cover in a few hours without sweating too much in the Mediterranean sun. In fact, the streets were carefully laid out to channel cool breezes in from the harbour. Valletta is a rough rectangle at the tip of a peninsula on Malta's northeast coast, just a few hundred metres across in either direction and surrounded by water on its northern, eastern and southern sides. From the City Gate at the southwest edge of Valletta, you can walk to the centre of town through a series of squares surrounded by palaces and cathedrals.
VERDALA PALACE
| | |
| --- | --- |
| | Palace from the Grand Master Hughes Loubenx de Verdalle and built in 1586 by Girolamo Cassar. |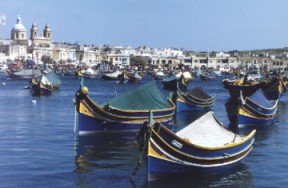 Blessed with a congenial climate, the Mediterranean lands are known for their rich agriculture and fine cuisine. This region has in fact played an important role in the development of wine-making throughout the ages.
Malta's viticulture, like its history, dates back thousands of years but owes its revival and promulgation to the Knights of St. John who occupied the Islands from 1530 to 1798. Today the Island boasts a repertoire of fine wines.
The passion and dedication to the nectar of the Gods' has produced a variety of wines of exceptional quality and palate, including several award-winning premium labels which are on a par with some of the finest wines. There are also various inexpensive but very enjoyable wines which the visitor to Malta can enjoy while savouring the Island's culinary delights.
Special Reserve Red or White is a medium-bodied wine of unique character, while the Palazzo Verdala selection of White, Rosé or Moscato is a most suitable accompaniment to almost all Mediterranean cuisine, particularly fish dishes.
© All rights reserved. The Wine Labels World.